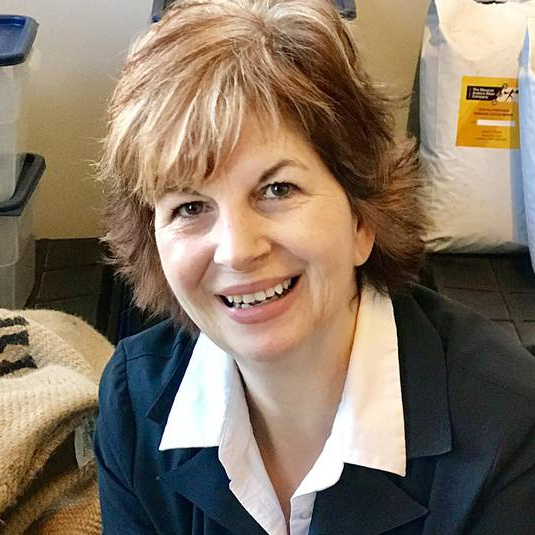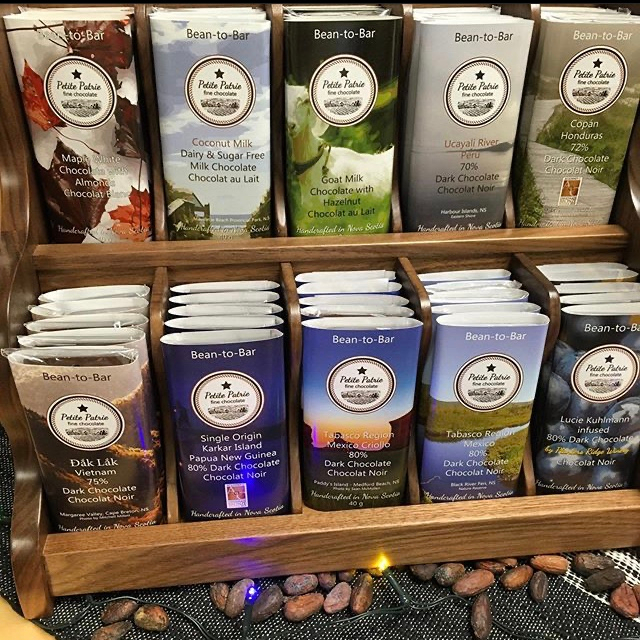 Petite Patrie Chocolate
Contact: Gabrielle Breault
Address: 2 Webster Street Kentville, NS, B4N1H7
Email Address: info@petitepatriechocolate.com
Phone: 902-713-5084
About Us
Petite Patrie is a bean-to-bar chocolate manufacturing business which began in 2017 in the Annapolis Valley, near Medford Beach Nova Scotia.
We are chocolate makers, actually roasting cacao beans, then cracking and winnowing the shell out to extract the cacao nibs. Those delicious nibs are then stone ground in small batches for up to 3 days and turned into the creamiest, most exquisite chocolate you've ever tasted!
No preservatives, artificial flavours, no gluten at all, no long list of ingredients here, just pure chocolate goodness!

We specialize in single origin chocolate which means the taste of our chocolate is linked to the cacao used in its creation. Our fine cacao beans originates from Ucayali River Peru, Copan Honduras, Tabasco region Mexico, Karkar Island Papua New Guinea and Ðak Lak Vietnam.
The cacao beans we use are special, they have been qualified as fine. Very much like fine wine, fine chocolate has flavour notes naturally linked to its country of origin, its terroir if you like, the variety of cacao and the climate where the beans are grown influence how the chocolate will taste.

Petite Patrie is a world award winning fine chocolate making business, having won two bronze awards and two commendations from the Academy of Chocolate in London, UK in July 2019!
Through working with small, carefully controlled batches and lots of love and attention, we seek not to be the largest chocolate company, but simply to make the very best chocolate humanly possible.

"It takes a week to make a batch of 100 bars!"

Practices
Sustainability, Fairtrade, Ethical and Child labour free:
We are committed to supporting sustainable cacao growing practices and paying cacao farmers fairtrade prices for their amazing beans. We have a good knowledge of the hard work involved in cultivating theobroma cacao, the tree responsible for this delicious treat. Spending time at cacao farms has grown our admiration and commitment to support farmers who supply our cacao.This is very, very important to us! In the world today, there is a staggering 2 million children as young as 5 to 11 years old working in cacao fields, engaging in farming activities that are treacherous for children and the compound effect of not going to school is devastating for developing countries. Fairtrade prices ensure that farmers are paid fairly so they are able to support their families and send their children to school.
See our website for more details about what each cacao origins and their farmers.

Also, our employee (we only have one!) gets paid a living wage, because that's the right thing to do!

Our commitment to local:
Petite Patrie use local organic ingredients whenever possible. For instance, our goat milk is Canadian and we are thrilled to use Nova Scotian maple products.

Our commitment to the environment:
Our facility is nearly zero waste! We use TerraCycle boxes to recycle items that would otherwise end up in landfills, such as used nitrile gloves, hairnets, and ingredient packaging. TerraCycle turns them into useful items such as playground structures and bench parks.
Our packaging is printed locally at HalCraft Printer in Halifax, who use vegetable based inks and coatings for our printing. Our clear wrapper is plant-based.

Your satisfaction is guaranteed!
If our chocolate does not meet your standards of excellence, contact us for a full refund or replacement.