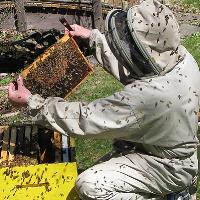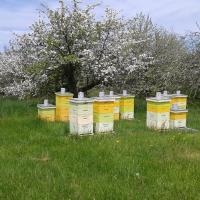 Brandt's Bees
City: Wolfville, NS,
Email Address: brandt@bellaliant.net
Phone: 902-300-4171
About Us
Perry and Jane, along with their son Kiefer, moved from British Columbia to Nova Scotia in 2002 as a lifestyle choice. Perry has been keeping bees for about 20 years; 5 years in British Columbia and 15 years in Nova Scotia. While beekeeping started as a hobby and stress reliever, it has grown into Brandt's Bees, a small, family run honey bee farm. We manage about 100 honey bee colonies that are hosted on properties that are all within 10-15 minutes of Wolfville. Some of these properties are abandoned apple orchards and we do out best to avoid locating colonies in areas where there is active agriculture spraying. We do not move our colonies for pollination purposes in an effort to reduce stress on our colonies. We do everything from managing colony health to harvesting the delicious bounty provided by these amazing creatures. The honey that we harvest from our colonies is extracted, lightly filtered, and bottled in our dedicated honey house. Our honey is not pasteurized and retains all of its beneficial qualities. Along with the honey that we harvest, we also collect and utilize the pure beeswax that is produced during this process. We use this beeswax in the candles and beeswax food wraps that we produce.