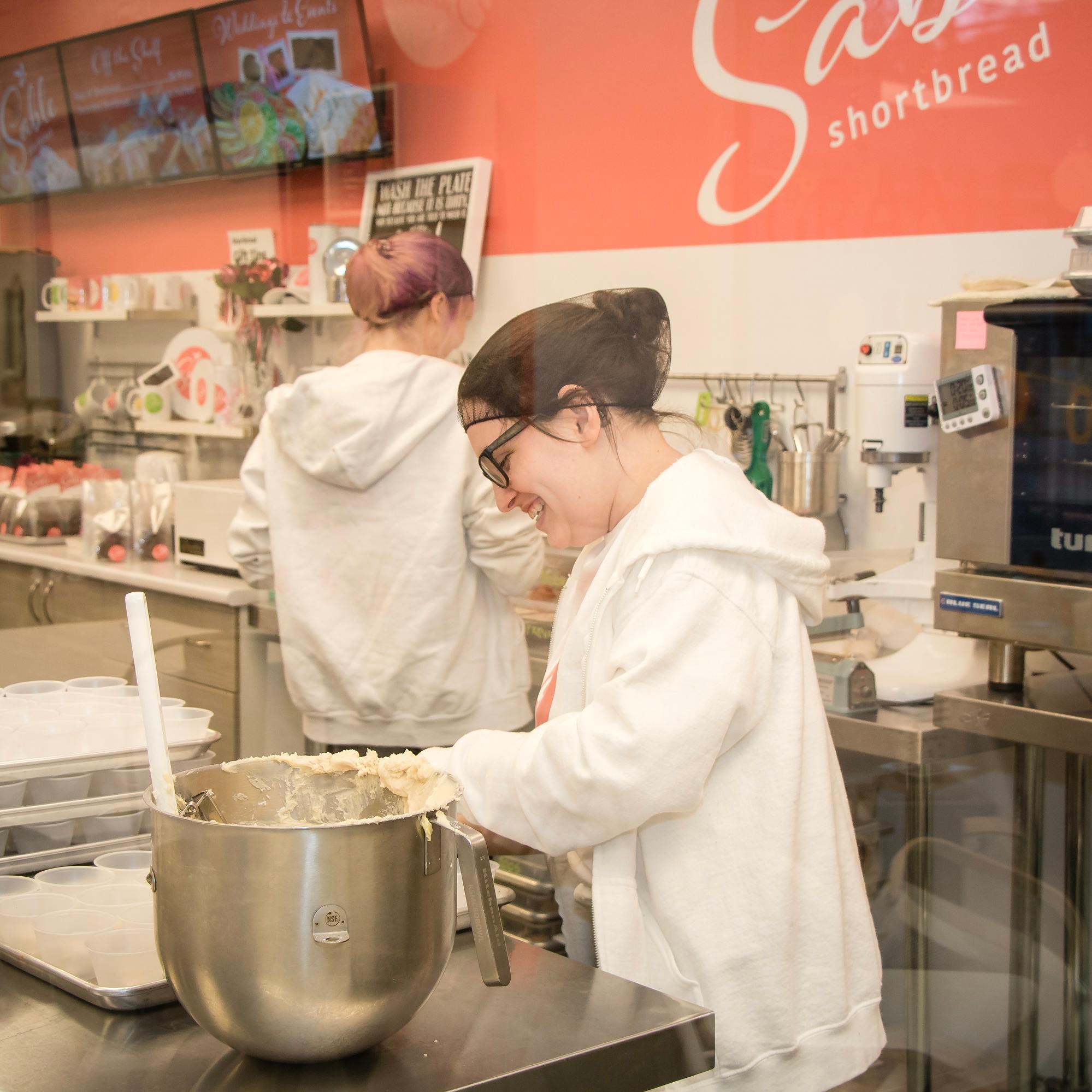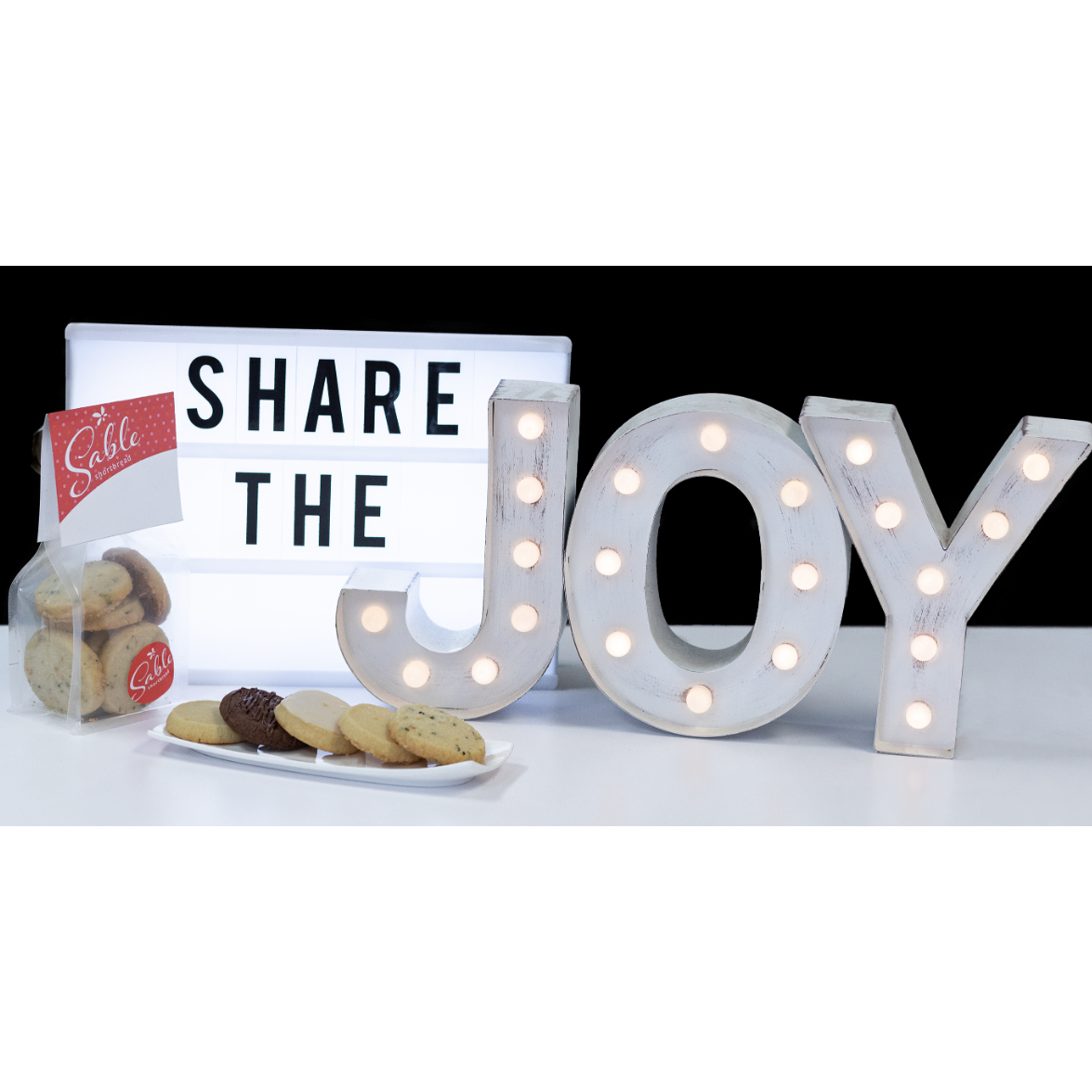 Sable Shortbread Company Ltd
Contact: Duncan Pike and Lorraine Pike
Address: 437 Main St. Kentville, NS, B4N 1K9
Email Address: markets@sableshortbread.ca
Phone: 902-365-5290
About Us
Our shortbread cookies are made with recipes passed down from our mothers and grandmothers. Whether they were amateur or professional bakers, they shared their passion for baking with their children and grandchildren. With amazing bakers on both sides of the family, it seems like baking is in our genes.

We are Lorraine and Julia, a mother/daughter team bringing these cherished recipes to a new generation.

Mabel was Lorraine's great grandmother, and she was famous for her baking. She made delicious crispy cookies and amazing pies with perfect flaky pie crust. Her children and grandchildren learned to bake in her big, professional kitchen. Lorraine's Dad used to work for his grandmother after school. He taught Lorraine to bake and we still use many of the same recipes, now being handed down to a fifth generation. After WW I, Lorraine's Granny Kate, an English war bride, created a little piece of home in Montreal when she opened her Blue Willow Tearoom next door to her husband's shoemaking and tailoring shop. She baked and served traditional treats like delectable shortbread cookies and incredible fruitcake. Both these women were running their own businesses in an era when women were not even considered persons!

We started Sable Shortbread Company Ltd., dedicated to staying true to Mabel and Kate's traditions: women running a business and making good food from scratch. Lorraine has many years of experience as a dedicated home baker and as a professional business consultant. Julia has a talent and a passion for baking. As a person with a disability, Julia faces barriers to employment, so Sable Shortbread is an opportunity to build a business, earn a living, and make a contribution.

Following in Mabel and Kate's footsteps, we make traditional shortbread cookies as well as shortbread flavours with our own unique twist, like Meyer Lemon, Margarita and Tiramisu to delight your taste buds. We make our gourmet shortbread cookies, by hand, in small batches, the way Grandma Mabel used to. We use only the finest local, organic, fair trade and natural ingredients and never add any artificial colours or flavours to our cookies. We carefully select our ingredients and our suppliers to make sure our shortbread cookies are crispy, buttery, melt-in-your-mouth delicacies that stand out from the rest.

Sable Shortbread is truly a labour of love: Lorraine and Julia are hands on with each and every batch of dough. This attention to detail extends to packaging each cookie by hand. And the best part is that you get to enjoy the most incredible shortbread cookies anywhere!

Share the Joy!
Practices
Sable Shortbread is made from Authentic recipes using simple ingredients, in traditional and original flavours. We have an Artisan Philosophy when it comes to making the cookies that you are going to enjoy.

We bake everything from scratch and by hand.
We make everything in small batches; really, really small batches.
We use only natural ingredients – no additives, no artificial flavours or colours.
We use local and/or organic ingredients whenever possible.
We use simple ingredients from carefully chosen suppliers.
We accept nothing less than the best quality from start to finish.

Simple, Natural Ingredients

Sable Shortbread cookies are free from chemicals, additives, fillers and artificial preservatives. You can pronounce very single ingredient that goes into our cookies. We use the same ingredients you have at home in your pantry.

Sable Shortbread works hard to develop original and innovative recipes that will stay yummy for weeks. Between our recipes and our traditional baking techniques, we make cookies without any additives or artificial preservatives that will stay fresh for several weeks when stored in an airtight container in a cool place.

Keep Your Cookies Fresh
Your cookies are best if enjoyed within a week of purchase. If you are not going to eat your cookies right away, we suggest putting them in an airtight container and storing them in the fridge. They will keep up to 8 weeks this way.

Shop Local
We love being part of the thriving artisan food movement that features an abundance of farmers markets, food trucks, diners, fairs and festivals where you can try all sorts of different types of food prepared locally with local ingredients and local flair.

When you enjoy artisanal food, you are able to see, taste and appreciate the care, attention and dedication that the makers put into their creations. Our community is a richer place for all its local fare and you get a chance to explore and try new things. We hope our handmade artisan shortbread cookies will make you happy.

Share the Joy!