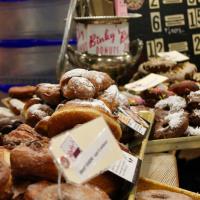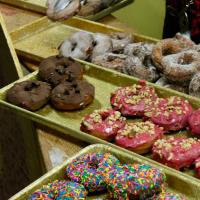 Binky's Donuts
Contact: Lisa
City: Wolfville , NS,
Email Address: binkyroese@gmail.com
About Us
Binky's Story: There once was a little girl whose grandmother nick named her Binky. Every Saturday morning Binky's mother and her little brother John would pack up the weekly laundry and ride their biked to the neighborhood laundromat. Once they arrived, Binky and her little brother and john were allowed to pick two donuts at Dottie's Donuts next to the laundromat. Binky's brother always chose the biggest cream filled donuts he could see and Binky always choose two chocolate sprinkle, the year was 1966.

Binky's donuts started on Valentines day in 2015 in the Gaspereau Valley Nova Scotia. You can get a Binky's chocolate glaze rainbow party sprinkle donut wherever Binky's donuts are sold!