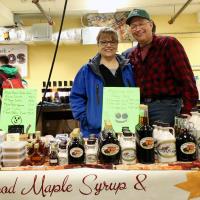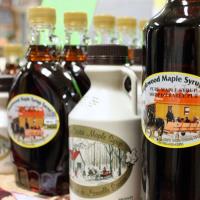 Maplewood Maple Syrup and Christmas Tree Farm
Contact: Bonnie and Rex Veinot
Address: 2819 Barss Corner Rd Barss Corner Maplewood, NS, B0R 1A0
Email Address: maplewoodfarm@gmail.com
Phone: 902-298-9157
About Us
Maplewood Maple Syrup and Christmas Tree Farm are a fourth generation Family Farm that produces maple syrup and Christmas trees.
We make 100% pure maple syrup, maple butter, and maple cream from the maple trees growing on our farm.
Practices
We have been awarded in 1996 and 2009 The Nova Scotia Woodland Owner of the Year an award given to one Woodlands Owner yearly for outstanding forest management. We have more than 3000 taps on a pipeline system and have been involved at some stage is maple sugaring for more than sixty years. Rex's Grandfather produced and sold farm produce including maple syrup directly to consumers since the late 1800's.